How to eat cheap Pizza Hut Salad~
Ok, I am sure you guys have been to Pizza Hut and ordered some set meals which give free salad. The complimentary salad will be free for one serving only, so you will have to fit as much as possible on to the given bowl. I always thought that I am greedy, until I see this.
I got it from a forwarded email, seems like it happened in China :)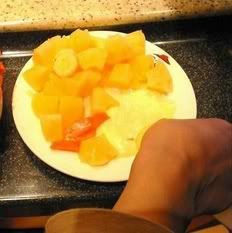 Firstly, take some pineapple (cube shape) item as base and 'glue' them with mayonese. We need a strong foundation.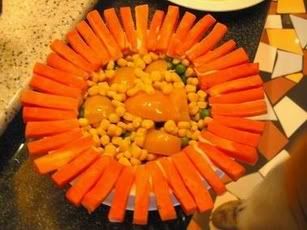 Stuff the bowl with the cubes and fill any opening in between with small corns. Extend the base coverage with stripes of carrots.
This is how it looks from the side.
Stack some heavier cubes (pinapples again) on the extended base (carrot). Repeat after me, we need strong foundation.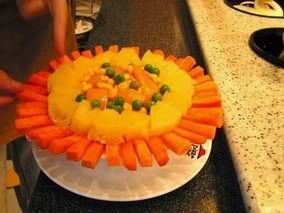 Now you can put anything u like in the middle.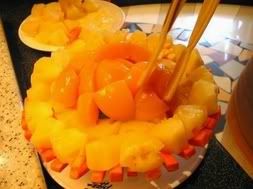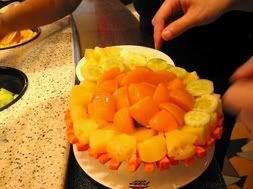 Slowly extend outwards and use the outer carrot ring as base. Try to place lighter fruits (cucumber) at the side, and save the heavier stuff in the middle (peach, pineapple).
Now pour more small pieces of fruits on the top as the surface is bound to be uneven after layers of chunky fruit. We need a flat base to continue.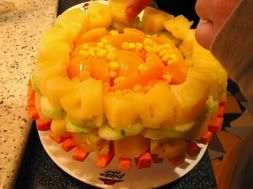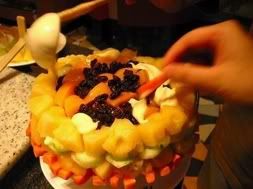 Continue the process of keeping heavy chunks in the middle and long, light fruits at the outer ring. Occasionally, put some jam/cheese/thousand island cream or what ever you can find that is stick. Now, stop thinking gross...
End result..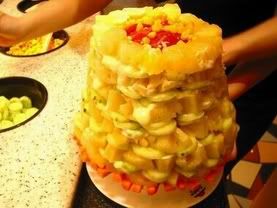 Its enough to serve alot of ppl.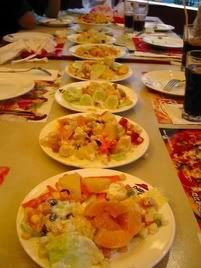 Or you can try challenge the extreme!!